Fundraise Online for Neurosurgical Research!
You can help raise money for the NRF by creating your own fundraising activity and event page. There are many different occasions through which you could support the NRF.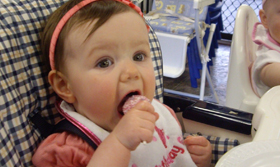 In Celebration
Next time you're celebrating a birthday, anniversary, engagement or special event, ask friends and family to skip presents and donate to lifesaving research instead!
Amelia celebrated her 1st Birthday by raising money for the NRF. She is alive today thanks to her life saving shunt.
Click here
to learn more and start your own fundraising page and support children and adults just like Amelia.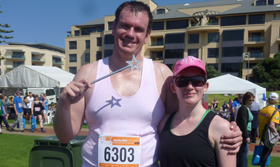 Personal Challenge
Are you about to enter the City to Bay? Are you setting yourself a personal challenge like a bike ride or trying to kick a habit? Create your own online fundraising event page and encourage family and friends to sponsor you along the way.
Click here
to learn more and start your own fundraising page.
Phil and Samantha raised over $9,000 for research into children's neurosurgical conditions. (Phil promised to run in a tutu if they reached their $5,000 target!) Well done!
In Memoriam
It is always difficult losing a loved one. Raising money for research and helping the next generation is a thoughtful way to make a difference. Remember someone special with a Memorial Page.
Click here
to learn more and start your own memorial page.
Malcolm beat all odds reaching 74 years of age. He survived more than 20 life-saving neurosurgical procedures. Malcolm lived with neurofiobromatosis. Throughout his life his body grew tumours. Malcolm helped raise money for neurosurgical research so that he would be able to make a difference for others.
Click

Find a Personal Challenge

to find, support or join an existing challenge.
Create Your Own Online Fundraising Page Now!